My obsession with birds as subject matter started many years ago when I discovered the presence of families of rainbow lorikeets in a line of tree alongside a busy urban railway station in South Sydney. At dusk the trees were filled with the raucous, strident almost deafening bird sounds that coincided daily with the setting of the sun.
On my regular walks in my new neighbourhood of Lake Macquarie, NSW, I always carry my camera with telephoto lens at the ready, in case I sight local birds, and especially birds in flight. So many scenarios present themselves such as the time I captured a murder of crows invading the nest of distraught noisy miners, or when a family of galahs hung upside down from telegraph wires during a torrential storm. So much has recently been uncovered about the intelligence and behaviours of birds in academic research. My focus on birds can be a celebration of their beauty and personality, usually in the watercolours and photos. They can also appear as symbols in personal narratives or as conceptual statements relating to environmental issues.
My medium of choice is textiles. The versatility of this medium has always been enticing to me. Initially my work was entirely in the batik technique which was employed to explore the NSW Blue Mountains landscape. Over time, my interests and knowledge of textile media have evolved and currently dyeing, transfer printing, machine and hand embroidery as surface embellishment dominate my work.
Editing programs such as Adobe Photoshop and Adobe Illustrator are also employed to manipulate design elements in preparation for the final image. The completed designs are generally dye-sublimated onto fabric. The printed fabric is then further embroidered.
After completing numerous workshops in machine embroidery in the 70s and 80s, I slowly developed a unique stitching technique that came about as the result of trying to recreate the patterns of barbs on feathers. I was inspired by the way the embroidery module on my sewing machine moved considerable distances to create stitches in precise patterns. By stitching slowly and pulling the fabric extended distances between the needle entries, I was able to develop my unique long-stitch technique. This technique resembles hatching and crosshatching in lithographs and ink drawings, and bears similarity to traditional Japanese hand embroidery techn
iques, used to embellish Obis. Light at various angles captures the sheen of each line of thread and illuminates the surface, reflecting the rhythm and pattern of the stitches. An embroidered fabric changes considerably when moved, or when the viewer moves, as the lighting reflects uniquely at different angles and levels of luminosity.
Transparency in my textile pieces generally refers to the disappearing richness of our physical world. More bird and insect species are facing extinction than ever before, and even more are in decline as climate crises multiply at an accelerating rate. Transparency can also symbolise the 'fading' memories of what we had/knew in the past.
I have been exhibiting my textile work for the past thirty years in numerous group, selective and solo exhibitions in Australia and overseas. My work is many private collections.
A secondary Visual Arts teacher and head teacher for a considerable number of years, I also taught photography and video production.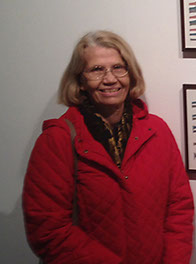 CV
Selected Exhibitions
2023 Australian Fibre Art Awards, Gallery 76 Queen St, Concord West, (selective exhibition) 5th, August - 3rd September 2023.Finalist.
2023 International Art Textile Biennale, East Gippsland Art Gallery, 20th Jan -18th March 2023, and then travelling to various galleries around Australia till July 2024
2022 Lake Art Prize, The Vessel - Contained Within and Moving Between. Selective exhibition MAC Yapang Lake Macquarie, 24th September to 11th December 2022
2022 5th Annual Birds of a Fiber selective exhibition, Pacific Northwest Quilt and Fiber Arts Museum, La Conner, Washington. US.Jan 26th - Feb 27th 2022
2021 The Value of Hands Online exhibition of the Society of Arts and Crafts NSW (Craftnsw) Group exhibition.8th -31st October 2021
2020 Seedstich Contemporary Textile Award at the Australian Design Centre. Selective Exhibition. 19 October - 17 November 2020
2020 Evening Birdsong at Purple Noon Gallery. 13th June to 19th July 2020. Alongside Sidestepping Spinifex with Ellen King.
2020 Australian Textile Art Awards finalist. Victorian Embroiderers Guild. Online exhibition due to Covid 19.
2019 I DREAM OF A WORLD WHERE LOVE IS THE ANSWER Curator: Mo Orkiszewski, local and international contributing artists. Artsite Gallery, 2-24th March
2018 SHELLS Barometer Gallery 3rd -20th October 2018
2018 Inked Wings Purple Noon Gallery 24th February - 8th April 2018
2017 Featured artist at Colac CrossXpollinatioN annual exhibition at COPACC displaying work on the theme of Flight.
2017 Deconstructed Barometer Gallery, Group exhibition of five artists working in contemporary textiles.
2014 Shadows Barometer Gallery, Group exhibition of five artists.
2012 Fibrefour Barometer Gallery. Group exhibition of four artists working in textiles.
2011 Birds in Stitches Cornell Lab of Ornithology Visitor Centre, Ithaca NY, Curator Eva M Copabianca
2011 Transformations Fairfield City Museum and Gallery. Curator Helen Lancaster
2009 A Conversation with Rain Fairfield City Museum and Gallery Curator Helen Lancaster
2006 WOW Awards Wellington NZ Finalist.
2007 …and there was a Golden Glow Fairfield City Museum and Gallery Curator Helen Lancaster
2004 Colour of Night Fairfield City Museum and Gallery Curator Helen Lancaster
1993 Decoration and Diversity Craftspace Gallery
1992 The 10th Tamworth Fibre/Textile Biennial (selective exhibition).
1992- Lithuanian Society Biennial Exhibition, Bankstown Civic Centre.
1989- Contemporary Australian Batik Exhibition. Work selected for Exhibition which toured S.E. Asia and was organised by the Dept. of Foreign Affairs and Trade.
1988 - Australian Craft Display at World Expo. '88
1983 - Solo Exhibition of Batik The Dotted Line Lewers Bequest and Penrith Regional Gallery.
Publications
How Art Heals: Exploring your deep feelings through Collage, Andra Stanton, 2021, Schiffer books, pp164-165
Textile Fibre Forum Magazine, Issue 141 March 2021, pp42 - 47.
Downunder Textiles Issue 33 2018 pp45-47
Textile Fibre Forum Magazine June 2017, Issue 126, pages 50-53
Textile Fibre Forum Magazine. Issue 116 Dec.2014 pp16-17 and back cover.
Fibreline Issue 145 September 2011 p6 and cover
Textile Fibre Forum Issue 3,No103,2011 pp22-23
Textile Fibre Forum Issue 4,No 96,209 pp26-28
Textile Fibre Forum Volume 23 Issue 4,No 76,2004 p12
Craft Australia Yearbook" 1984 pp. 127,128. 129.
Craft Australia Summer 1982 14 p.69